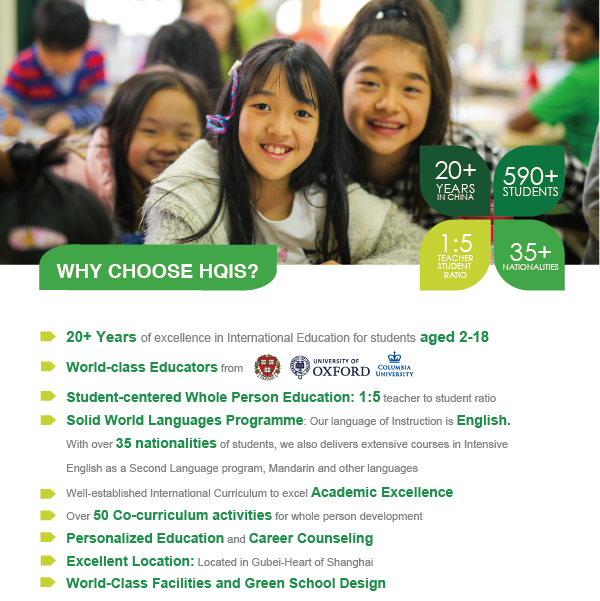 Welcome to Hong Qiao International School (HQIS). Thank you for your interest in one of the most established and ambitious schools in Shanghai. HQIS is a non-profit educational day school, which opened its doors in 1997 with just two classes serving eighteen preschool students. Since then, our student population has steadily increased. In 2012 HQIS became an International Baccalaureate (IB) World School authorized to teach the Primary Years Program (PYP). The IB-PYP program begins in Pre-School and goes through to Grade 5.At Middle and High School, we are offering a holistic program guided by three pillars of learning: Academic Rigor, 21-Century Skills, and Living Environment. The three pillars are supported by courses based on American curriculum standards, with AP as the capstone.


At HQIS our emphasis is on life-long learning. We understand that in order to achieve success in life, students have to be comitted to learning. This begins with a highly engaging educational program that focuses on developing the academic, social, and emotional capabilities of each child. With an emphasis on inquiry teaching and learning, students are immersed in an educational environment that cultivates critical thinking and problem solving, fundamental skills students need to thrive in a world that is constantly changing.


At HQIS we are also preparing students to become responsible global citizens. It is our aim to provide students with the knowledge, skills, and mindsets to effect positive change on their lives and the lives of others. We achieve this through a curriculum that links learning standards in core academic subjects such as reading, writing, and mathematics to issues of universal and global significance.


As one of the leading international school in Shanghai, we are committed to offering a student-centered holistic education that prepares students for higher education and life beyond the walls of the classroom. We encourage you to browse our website to learn more about HQIS and the unique educational programs we have on offer.


Sincerely,
The Leadership